Real time moisture information is invaluable for understanding and controlling processes. It gives the process operator a continuous picture of what is going on, without the blind spots they experience when using only periodic manual samples.

 

 

Dryer Master provides in-line real-time moisture information using fin style moisture sensors that measure the moisture of the product as it passes by the sensor. These sensors are capacitance-based devices that respond to the total bulk moisture within the product and use temperature stabilized electronics and product temperature compensation to give you the best available in-line readings.

 

Constructed of stainless steel, the sensors are food grade and flexible enough to meet your most demanding applications. Installation is generally quite straightforward, as is maintenance and calibration.
In addition to the whole grains industry (corn, wheat, rice, soybeans etc.) the sensors can be used in industries as diverse as coffee beans (raw, roasted or processed), meals (such as cornmeal, soymeal, distillers grain and flour), and manufactured pellets (including pet food, animal feeds, fish feed and wood pellets).
When compared to alternate technologies Dryer Master sensors can be a very cost-effective alternative. This can make it attractive to install the sensors in locations where it may have not been economical to do so in the past.
The sensors are available individually or as part of a Dryer Master monitoring or control solution.
---
Sensor Models
2220 series – Standard Configuration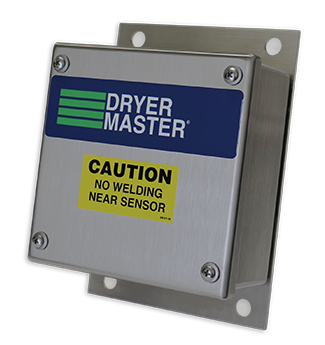 2300 series – Intrinsically Safe Version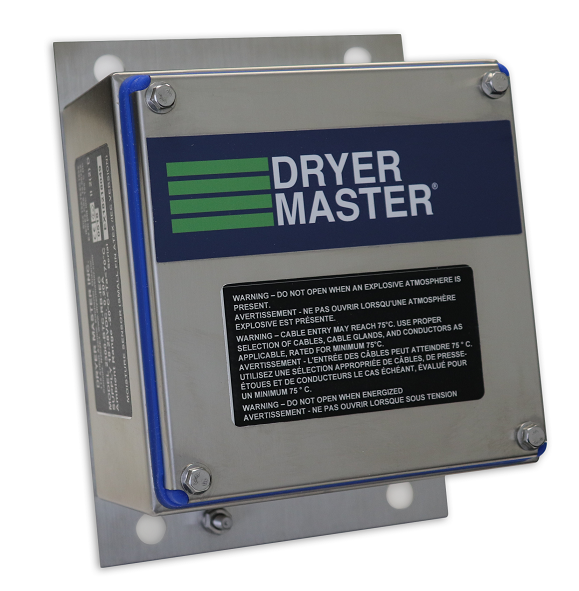 ---
Optional Equipment - Rotary Feed Chutes
To simplify and standardize installation, Dryer Master offers moisture sensor chutes that come with a rotary feed to provide a consistent metered flow past the sensor. The chutes come with a viewing window and a sampling port and are available with either a 115 VAC or a 230 VAC motor. The two versions of the chute (bypass or inline) are available in either painted mild steel or stainless steel.